Boys: High School Box League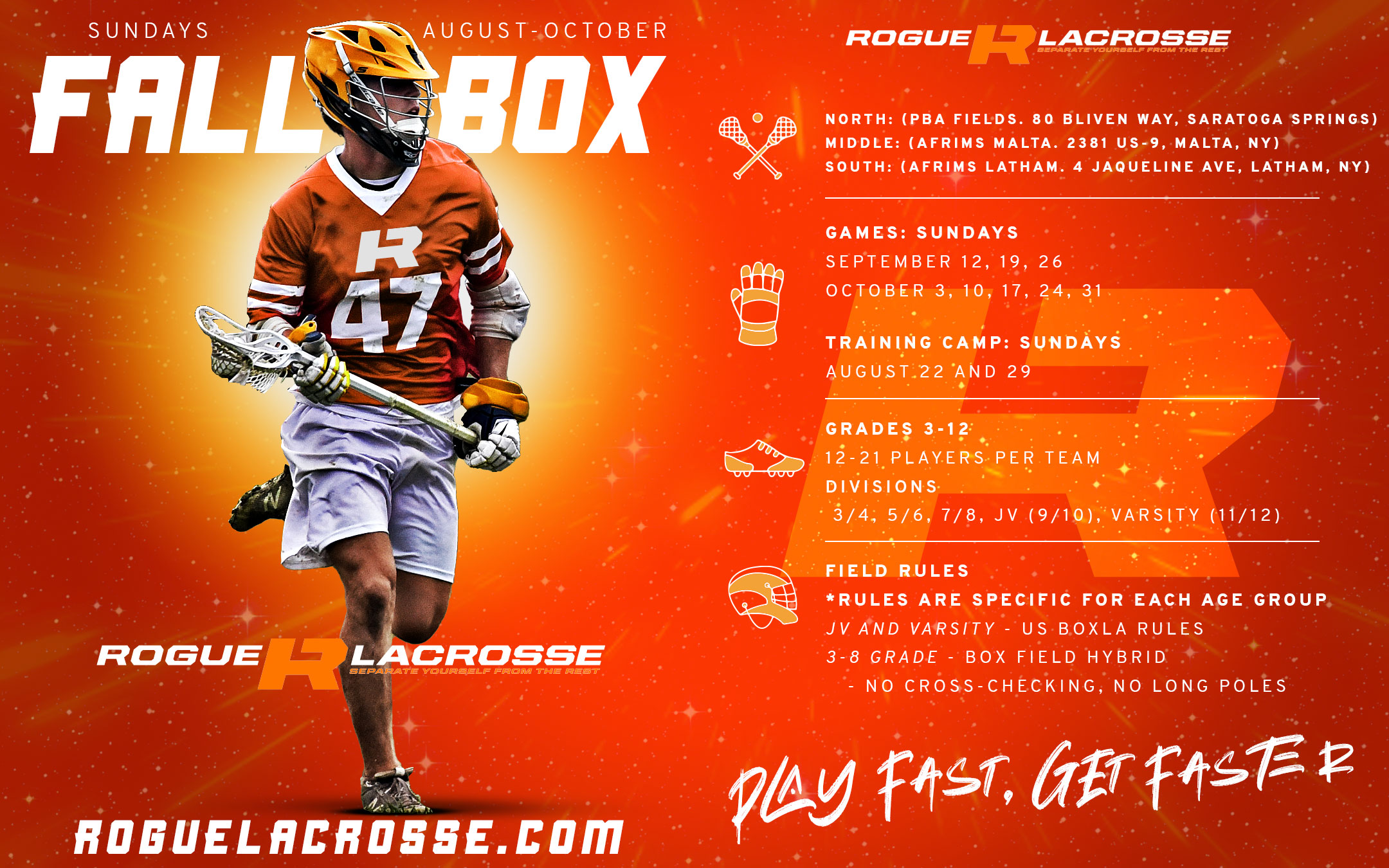 Locations: Afrim's Box Latham and Saratoga SYLA Box
Games: Sunday: September 11, 18, 25   October 2, 9, 16, 23, 30
Time: 9:00am-3:00pm
Divisions: JV and Varsity
Grades: 9-12
Teams: 12-20 players per team, Only 6 Teams per Division
Cost: $2,400 Team,  $150 Player
****REGISTRATION DEADLINE: September 5th, 2022 (All Teams and Rosters must be FINAL)****
Registering Your Team:
Players have the ability to create their own team. All teams must consist of 12-20 players with a goalie to participate. Each player must fall into proper grade bracket for each team. All teams must have 2 Adult Coaches. Fees for each team can be broken up and payed individually or all at once by team Head Coach. Head Coach must create a team and players can register once team is made. (Registration will guide coaches through process creating team and making payment.)

High School Box Format:
5v5,  5 Field Players and a Goalie
Two, 22 Minute Running Halves
4×4 Goals
Box or Field Goalies
US BOXLA Rules and Equipment
No Long Poles
No Offsides: Everyone plays both sides of the field (defense/offensive); substitutions are made on the fly
Season Play
6 Regular Season Games
2 Playoff Games
1 Championship Game
1 Champion
All Players Must Follow:
All Players must provide ALL of their OWN hydration
All Players must provide ALL of their OWN equipment
HAVE FUN, TRAIN HARD, BE A GOOD TEAMMATE, SHOW GREAT SPORTSMANSHIP
Cancellation Policy
We all have events that occur that may prevent a player from attending a camp or clinic. A full camp/clinic credit will be offered if a written/email notice is received within 7 days of the start of the player's camp/clinic. If the player cancels, in writing/email, with less than 7 days before the start, regardless of the reason, a credit will be issued for 50% of the total amount paid. Cancellation made in writing/email within 3 days before a camp or clinic will result in a full forfeiture of funds paid and no credit will be issued. Rogue credits are to be used by the player or are transferable to another immediate family member and are good for one year from the date issued. No credit or refunds will be offered for players after the start of camp/clinic or for players who arrive late or leave early. PHONE calls or text messages are NOT ACCEPTED as notices of withdrawal from a camp or clinic. No Cash refunds are offered for any Rogue programs.