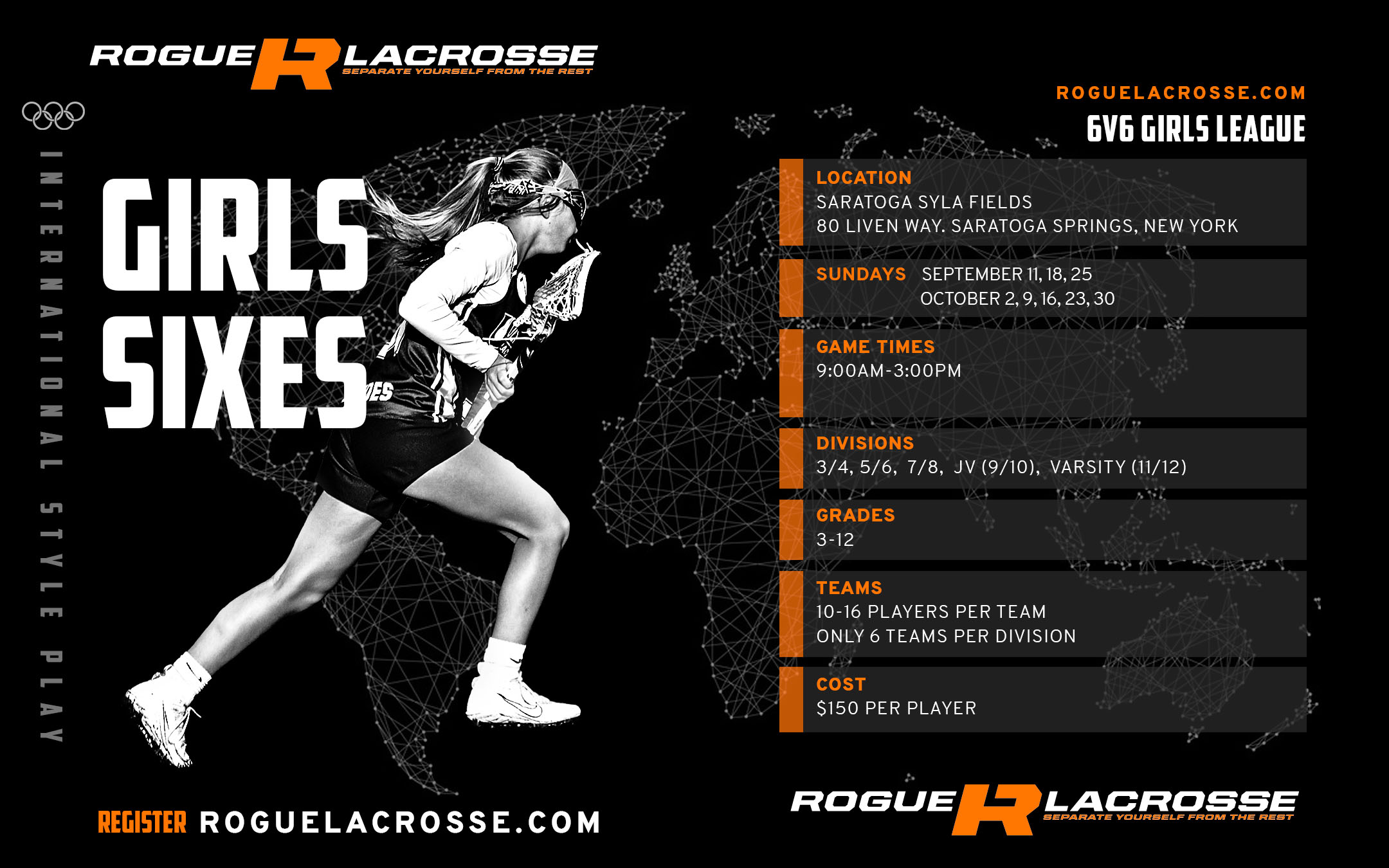 Locations: Saratoga SYLA Fields - 80 Bliven Way, Saratoga Springs, NY
Games: Sunday: September 11, 18, 25   October 2, 9, 16, 23, 30
Time: 9:00am-3:00pm
Divisions: 3/4, 5/6,  7/8,  JV (9/10),  Varsity (11/12)
Grades: 3-12
Teams: 10-16 players, Only 6 Teams per Division
Cost: $150 per player
"Register a Team" or enter the "Free Agent Draft": Any and all players who want to participate but do not have a team can register in the Free Agent Pool. Players will have an evaluation day and be drafted to teams. You will be contacted by coaches once you register.
****REGISTRATION DEADLINE: September 5th, 2022 (All Teams and Rosters must be FINAL)****
Registering Your Team:
Players have the ability to create their own team. All teams must consist of 10-16 players with a goalie to participate. Each player must fall into proper grade bracket for each team. All teams must have 2 Adult Coaches. Fees for each team can be broken up and payed individually or all at once by team Head Coach. Head Coach must create a team and players can register once team is made. (Registration will guide coaches through process creating team and making payment.)

SUPER SIXES FORMAT: Olympic Style
6v6,  5 Field Players and a Goalie
Four,  10 Minute Running Quarters
6×6 Goals
Field Goalies
General Field Rules and Equipment
Goalies initiate play after goals are scored; draws / faceoffs occur only at the start of each quarter
No Offsides: Everyone plays both sides of the field (defense/offensive); substitutions are made on the fly
In the women's game, defensive players cannot be penalized for entering the shooting lane of an offensive player; offensive players will be penalized for taking a shot without regard for other players.
Season Play
5 Regular Season Games
2 Playoff Games
1 Championship Game
1 Champion
All Players Must Follow:
All Players must provide ALL of their OWN hydration
All Players must provide ALL of their OWN equipment
HAVE FUN, TRAIN HARD, BE A GOOD TEAMMATE, SHOW GREAT SPORTSMANSHIP