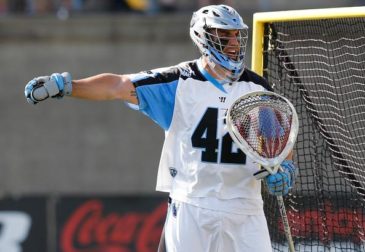 Baltimore, MD
MacArthur HS, Wantagh, NY
University of Notre Dame
Toronto Nationals 2010-2012
Ohio Machine – Present
Assistant Coach Marquette University 2011-2012
Assistant Coach Towson University 2013-2014
Team USA – Champions Challenge
Johns Hopkins Strength and Conditioning Coach – Present
Professional Career:
7th Pick in the MLL 2010 Draft (First Goalie selected that high in draft history)
16th Pick in the NLL 2011 Draft – Minnesota Swarm
Throughout his tenure in the MLL Scott has seen 39 games in goal. Has made over 330 saves and picked up Player of the Game MVP honors several times throughout his career. Rodgers led the 2011 National to the MLL Finals. Rodgers has also been chosen to represent Team USA over the past 4 years during the Champions Challenge.
College Career:
2x All-American
Led Country in Save % for 2 years
Great West Player of the Year
Teewarton Finalist
Lowe's Senior Class Award Finalist
Led Notre Dame to 2010 National Championship
Named MVP of NCAA Tournament